Video Gallery of Poets
in Southern California








We are a 501c3 non-profit video production group dedicated to promoting Southern California's rich poetry scene by producing and publishing videos of poet performances, interviews, and poetry-themed programs. Since 2007, we have posted over 700 videos to our YouTube channel, receiving over 900K as of 2021. In 2017, Beyond Baroque Literary | Arts Center presented its Distinguished Service Award to Poetry.LA co-founders Hilda Weiss and Wayne Lindberg.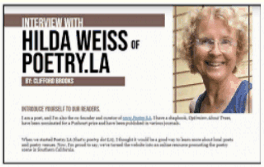 Curation:
Hilda Weiss

Video:
Wayne Lindberg

Web:
Neel Rumi

Interview hosts:
Lisa Grove, Douglas Manuel, Jeremy Ra, Luivette Resto, Lynne Thompson, Mariano Zaro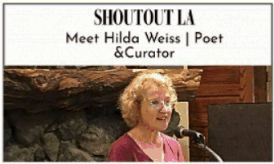 Click images to open articles

To receive notification of our video releases, email:

hilda.weiss81@gmail.com







Subscribe to us on YouTube

© 2007-2023 Poetry.LA All Rights Reserved.